PI:
Over the past few days I've been watching some of the newer guys as they leveled up in rookie class.  Lots of questions about how I, Strat, Zyg, Alex, and so on are so fast while they struggle to get within 5 seconds of our lap times.
Guys, its the way you assign your performance points.  PI has a drastic impact on how your car performs so I'm going to break it down for you. 
Power- Each point added is a direct influence on how effective your engine is, how fast it revs, how quick it hits peak power and rpm.  Its extremely important that when you get to 60 PI that this be maxxed out at 20 or you are going to get romped every race.
Braking-this directly effects stopping distance..how effective your brakes are.  None of us fast drivers assign any PI points to this section..the brakes at 0 PI are plenty sufficient to slow the car for the corners.  Its just a matter of finding the right braking point to do so.  Here's a tip on that for a beginning racing driver..turn on the reccommended braking points in game options..and brake a car length before them..adjust from there..but usually a car length is sufficient.
Grip-How much grip the car overall generates in the corners..more grip, means more speed in the corners, which means lower lap times.  You want this MAXXED out 20 points
Traction-reduces wheel spin but again, not used by us fast drivers..we manage our wheel spin by managing engine revs and making sure we accelerate at the right time.
Weight-this directly affects your car's acceleration..a car that weighs less accelerates faster.  Depending on the driver, this can be maxxed, half or none.  This one depends on driving style..better acceleration is good on short tracks..ok on long tracks but see aero before making this decision
Aero-This affects car's top speed..the higher the aero the easier the car can hit maximum speeds...great on long tracks..ok on short tracks.
Now..when you build a car you have to decide..do you want a car thats kind of balanced for both long and short tracks..strictly a long track powerhouse, or a short track dominator and assign either weight or aero or both accordingly.
Here is the car that can run a 1:12 on Ark 1 blue with no widgets.
Notice how the PI is set over on the right, Nothing in braking, traction or weight.  This car hits top speed on the straights maxed out, gearing selection full left but on a short track..its acceleration is somewhat..wanting so I have another car for those tracks thats setup differently in PI. 
Racing Line:  
Now I see new and old drivers alike making some mistakes here..some mistakes worse than others so let me talk about racing line from the point of view of a real world race driver.  I drove sprint cars and dirt modifieds for quite a number of years, before that, did a lot of "ahem" illegal street racing.  So when I talk about this stuff you know I'm not talking out my you know what.
Lets bring a corner we are all familiar with into the picture..Ark 1 blue, tunnel turn..we all know this is a fast left hand turn and is a hairpin on top of that.  Hairpin turns are some of the toughest corners to try to figure out how to do fast.  Now..if you have the in-game driving line on you know the recommended line..and its pretty close but doesn't quite straighten the corner enough...so I do it just slightly different but it is a good starting point for a new driver.
As you approach any corner at speed you want to be on the outside of the turn in this case, the right side of the track..brake, and cut to the apex, when you get to the apex you want to be able to reach out of the car and touch it..your tires should just graze the apex..do a fast 1 count..hit the accelerator..as you accelerate out of the corner you should let the car ease to the right side of the track again, just inside of the wall..you want to use the whole track.  Now in a hairpin, the apex is halfway through the full 180 degrees of radius.
Here's what I'm talking about:
Braking point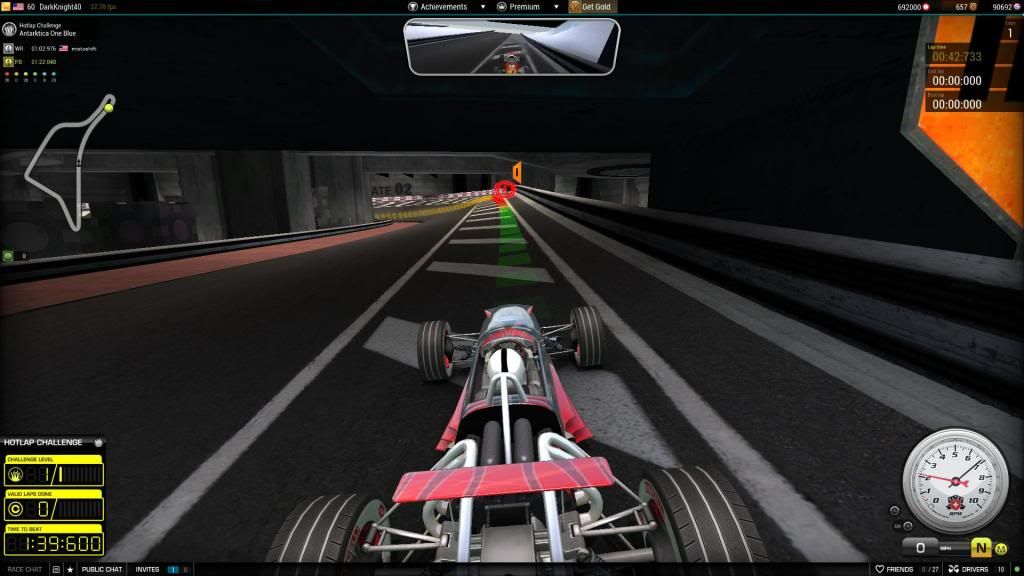 Apex and start acceleration <note> you can see corner exit up ahead and to the left..thats your hint you've got it right. 
Exit
Doing it this way gives you a smooth transition all the way through the corner and speed on exit.  Next post will be on setups.