*Updated for Patch 12*
When people upgrade cars the first thing they tend to do is upgrade power.  While this may be a good thing, it's not always the best thing.  If your driving the car and you go around a corner having a lot of power isn't always a good thing.  You need to have the Grip and Aero to take the corner at high speed.  I'll try to give some thoughts on how I upgrade my car.  Hopefully it will be insightful.
The Research & Development screen: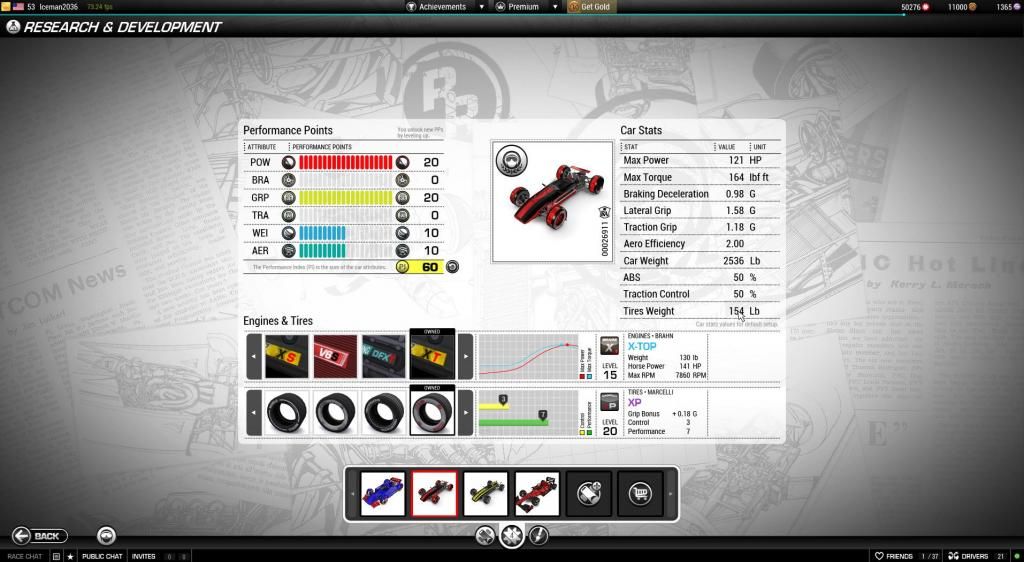 Weight - Reduces the general weight of the car.
More acceleration
Medium enhancement in braking
Little enhancement in lateral grip
Little enhancement in traction
Aerodynamics - Increases the efficiency of the wings
Increases max speed
Increases acceleration at high speeds
More efficient wings
Traction - Reduces tire slipping while under acceleration
Less drifting in acceleration at lower speed and lower gears
Grip - Increases a cars ability to corner
Brakes - The ability to slow a car down
Decrease braking distance
Prevent's tires from locking up under braking
Power - Influences the engine strength of the car
Increases maximun speed
Increases Acceleration
Engines
Moldoch - Mid Range RPMS
Gre - Low Range RPMS
Brahn - High Range RPMS
     With different engines there are different attributes.  Gre engines, have Low Horsepower, but High amounts of Torque.  Brahn engines, have High Horsepower, but Low amounts of Torque.  Moldoch engines, have Mid level Horsepower, and Mid level Torque.
     At the moment however, Brahn is really the only way to go.  The other engines, are between half a second, to 1.5 seconds slower on certain tracks.
Tires
Marcelli - High Performance, Low Control
Tireco - Mid Performance, Mid Control
Nashville - Low Performance, High Control
     With different Tires, there are different attributes.  Marcelli tires, have High Grip, but low Acceleration quality.  Tireco tires, have Mid level Grip, and Mid level Acceleration.  Nashville tires have Low Grip, but High acceleration.
     At the moment Marcelli tires are the best option.  They allow for tremendous amounts of grip while cornering.  Couple that with a high amount of Grip in R&D, and you have a gripping machine.
When upgrading a car, one of the things to keep in mind is balance.  While upgrading power is a good thing, it won't help much if the rest of the car can't handle it.  The main point to remember when taking a corner is to keep as much speed as possible while going through the corner.  Upgrading a cars Grip can make a big difference in how the car takes those corners.
Upgrading a cars Traction, can prevent the tires from slipping, and thus prevent drifting, while taking corners.
Upgrading Weight is a big one for me.  To me it's more important than power.  With less weight on the car, it tends to take corners quickly without losing much speed.  The speed I would lose going into a corner with a car with power, can be kept with a car with more points in the weight stat.
Upgrading the Aerodynamics is also important.  When setting up a car for a track, the higher your Aerodynamics, the faster you will reach top speed.  Aerodynamics also allows for a higher downforce setting towards grip, without losing much acceleration.
Brakes, are a bit touchy.  When doing hotlaps, I wouldn't put anyting in them.  Your not competing against anyone, so the need to outbrake someone isn't there.  But, at the same time, putting Performance Points in brakes, can help stop the car on rough surfaces, as well as help more in weight transfering.  Also, putting Performance Points in brakes increases the strength of the ABS.  With Patch 12 the tires tend to lock up under braking quite easily, so this stat might be worth a little more.
Power.  Now to the beefy bits.  Power is great for increased speed.  Upgrading power will help you in longer tracks when you can really get up to speed.  The mostly notable course where you'll see a difference is Arctic One.  Power is a setting that is most needed for Legend cars.  Classic and Formula cars don't it as much.
Hopefully you know a little more about what the various stats on the car do.
Here is Capabombas car. >Clicky<
And here is Capabombas alternate car.  >Clicky<
For more Information, check http://victorythegame.com/victory/basics